BIOGRAPHY
Gustavo is a premier Guitarist from Albuquerque, New Mexico. He began his guitar studies in 1974 in the studios of his famous guitar building family, "Pimentel and Son's Guitars" of Albuquerque, New Mexico. Gustavo has been exposed to the finest guitar music since he was a child.
Gustavo Pimentel graduated in 199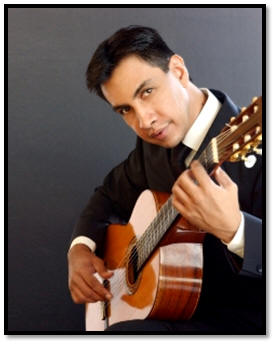 5 from the prestigious "Estudio de Arte Guitarristico" in Mexico City. He received classes of technique with the Maestro Juan Reyes and classes on interpretation with the Maestro Manuel Lopez Ramos. In addition, he has participated in the National Competition of Guitar at the University of Jalapa, Vera Cruz, Mexico. He has also studied with master musicians such as Pepe Romero, and the famous duet, Laura Oltman and Michael Newman. Gustavo is an internationally recognized classical guitarist where he has performed in Helmstadt, Germany, Spain and Mexico City. In June 2012 Gustavo was commissioned by the Cancer Society to play "The Concerto de Aranjuez" with the Philharmonic Orchestra. In the same year of April 2012 Gustavo participated in a Pimentel Concert Series honoring Lorenzo Pimentel at the National Hispanic Cultural Center in Albuquerque, New Mexico. In November 2010 Gustavo Pimentel was featured in the National Hispanic Cultural Center at the Disney Auditorium presenting a full concert. In December 2009 Gustavo gave a classical guitar concert in commemoration of the New Mexico Pimentel Guitar that was held at the Disney Auditorium at the National Hispanic Cultural Center in Albuquerque, NM. Gustavo has also traveled to Maui, Hawaii to perform for Rainsong Guitar Company. He has also visited Nashville, Tennessee to perform as a representative of the Albuquerque Convention Center and Visitors Bureau. In all his concerts he has received rave reviews and standing ovations.
Visit the Pimentel Family and the NM State Guitar Photo by clicking on the following Rosette: